Here at SNAPSO we support and encourage every participant in our program to take part in new experiences and most importantly to be themselves. Our participants are as unique as a fingerprint, each with their own likes and favourite ways to spend their time. Meet some of the people that make SNAPSO the special place it is and find out what they enjoy most about our program.
My name is Melissa, I'm 33 years old and I've been attending the SNAPSO program from the beginning. SNAPSO is a very special place where people care about me and encourage me to step out of my comfort zone. I often have seizures and sometimes fall, but thanks to staff I am well supported, protected and feel safe. I'm not afraid to try new things. I have lots of friends, do lots of fun and exciting activities and go to lots of different places that I normally wouldn't go. Some of my favorite activities include puzzles, painting, swimming and dancing. I love when my friend Jessie sits with me in the morning and reads my favourite books to me.
My name is Dariush. Some of my friends call me Mr. D. I am 32 years old. One of my favourite parts of coming to SNAPSO is seeing all my friends. I think SNAPSO is a very good program and I like that I can go out with my friends if I want to. One of my favourite trips to go on is the butterfly conservatory. One time an orange butterfly landed on my chair! I really love doing drama performances. I love acting with my friends and doing SNAPSO newscast. I really like acting as the weatherman. I love coming to SNAPSO five days a week and I can't even imagine if SNAPSO didn't exist!
Hi I'm Kate, I am 30 years old. I started coming to SNAPSO in
2009 and I come 4 days a week. I like to go out on trips. My favourite trip at SNAPSO is the movies. I also enjoy playing games at the games room with my friends. I like SNAPSO because I have the chance to make new friends. I really like to make people laugh and I am friendly and outgoing. The staff are super nice and help me do things like cooking, cleaning and getting ready for trips. I get to do some really cool things. I love SNAPSO!
My name is Mason. I come to SNAPS0 twice a week. At SNAPSO I am able to let everyone know how I feel and what I need using my iPad. I enjoy playing battleship and arranging BINGO chips at lunch time before the morning activities start. I like to hop and bounce when I am happy. I do a lot of that at SNAPSO! I like going on trips. Some of my favourite community outings include swimming, Reptilia and basketball. I enjoy group activities that involve sports and my friends.
My name is Nathan and I'm 30 years old. I love to come to SNAPSO because I can be creative and see my friends. I always share the latest sports updates and final scores. My favourite teams to cheer for are the Toronto Maple Leafs and the Toronto Raptors. Things I like to do at program include swimming, drawing, listening to music and going out on trips. The best trips are; score keeping the shinny hockey games at Cassie Campbell, winning the high score at Playdium and looking a new sports hats and t-shirts in Hockey Life. Sports and music are a big part of my life and so is SNAPSO. I love that I can go to SNAPSO ad be myself!
Hi! My name is Marc and I am 24 years old. I usually start my day at SNAPSO with a morning tea and a puzzle. When I am at SNAPSO, I love practicing and enjoying Karaoke and singing with my friends. Nothing like some good old Bublé! My favourite trips are the Games Room to play basketball and Xbox. I like driving my own kart at Playdium too. I have many friends at SNAPSO but I really enjoy spending time with Nicole and Theo. SNAPSO is fun!
I'm Jessie and I'm excited to come to SNAPSO 5 days a week. I have many friends here. My favourite thing to do in the mornings is read books to my best friends Lisa and Melissa. I am a very friendly woman and enjoy saying "Hi" to everyone in the mornings. I sometimes give people hugs. I love swimming in the pool at SNAPSO and floating around amongst staff members. One of my favourite indoor activities is arts and crafts. Some of my favourite trips include walking through parks in the summer and pushing the cart at the grocery store. Coming to SNAPSO makes me feel good about my day!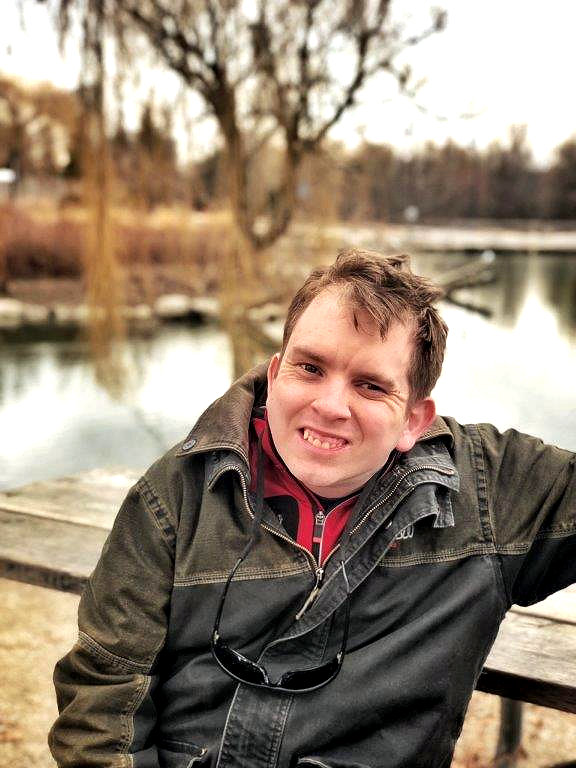 My name is Sam and I'm 28 years old. When I come in to SNAPSO in the morning I always make sure to say "Hi" and "Good Morning" to everyone. My best friends are John, Jeanine, Katrina and Kaitlyn. I phone John every day!
I love cars, especially Audi, and I love to teach my friends everything I know about them. My favourite SNAPSO trip is when we go to the Audi dealership. I help-out by calling Audi and booking the trip myself. I have lots of jobs to do at SNAPSO and while I'm here my mom can get her jobs done too. If it wasn't for SNAPSO I'd be at home all day and that is no fun!
My name is Pioretta and this is my first year at SNAPSO. I was a little scared to start a new program but now I can't wait to get here. I love going on trips. Some of my favourite trips are; exercising at the gym, moving & grooving at dance class, bowling and the Library. When I'm at program on Tuesdays I like to help with baking. I also like doing crafts and yoga. John Bell is my special friend and we go to the dance on Wednesday nights. SNAPSO is the best place and I like it a lot.
My name is Matt. I have been coming to SNAPSO 5 days a week, for over 10 years now. Some of the things I love to do at SNAPSO include: Shaking my tambourine to music, watering our vegetable garden in the summer and enjoying our relaxing sensory room. I even know where the lights are and I go and get them myself! I also enjoy trying new foods when we cook on Wednesdays. I enjoy getting out and about in the community. Some of my favourite SNAPSO trips are pushing the cart at Home Depot, boat watching at the marina and treats at McDonald's.
My name is Beth and I have been at SNAPSO from the start! 10 years! My 10 favourite things about coming to SNAPSO are; working on bazaar items, swimming, cooking, baking, cricut crafts, sewing, my friends, especially Mikey and Kathy, the golf tournament, all day trips where I can be independent and choose my own lunch and knowing the staff always has my back!